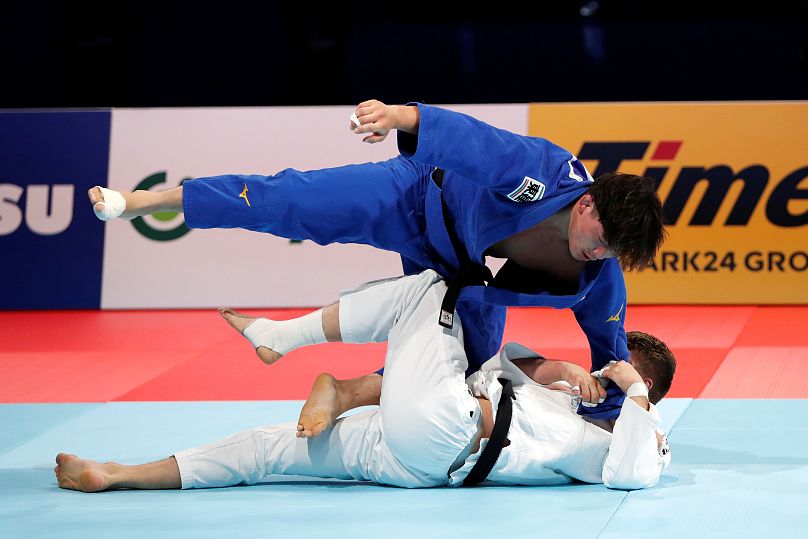 Day 5 of the 2019 Judo World Championships in Tokyo saw Dutch superman
Noel Van T End
beat two former World Champions on his route to the gold medal match.
It was clear that Van T End had set his sights on gold and could channel the history of the Dutch in the Nippon Budokan from the 1964 Tokyo Olympics.
Van T End's opponent in the final was stylish Japanese Judoka
Mukai Shochiro
.
With only 30 seconds left on the clock and no score, Van T End pounced, attacking with a well-timed Osoto into Kosoto Gari combination, catching Mukai for a waza-ari and then seeing out the contest for the Win and World title. Making it exactly 10 years to the day the Netherlands won their last World Championship gold.
Mr Manuel Larranaga
,
Vice President of the International Judo Federation and President of the Panamerican Judo Confederation
, presented Van T End with his medal.
"In my mind I had

Anton Geesink

, the Dutch guy who won in this stadium, he won Olympic Gold from the Japanese guy. I had this in my head - his spirit is with me. I got a lot of power out of that,"
Van T End said in an interview.
"I knew i was going to fight a Japanese guy, I thought, here we go - I'm going to continue his streak."
Today's other gold medal went to
Marie Eve Gahie
of France.
Facing Portugal's
Barbara Timo
in the final. Gahie needed just 48 seconds to defeat Timo with an armlock and take her first ever World Championship title.
A brilliant piece of Judo and the smile on her face said it all.