Barcelona travel to Germany to face Borussia Dortmund on Tuesday night, with the German side's attack having produced as many as 184 goals since the start of the 2018/19 campaign.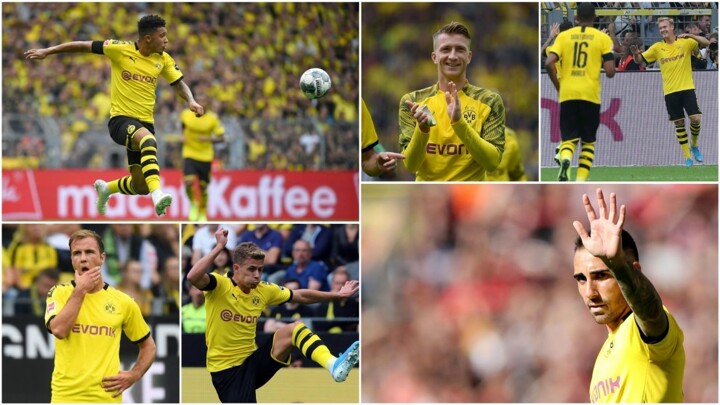 Dortmund's forwards have scored 101 goals and assisted another 83 in the aforementioned period.
Marco Reus (25 goals and 14 assists), Paco Alcacer (26 and three), Mario Gotze (seven and seven) Jacob Bruun Larsen (three and four), Julian Brandt (11 and 17) and Thorgan Hazard (13 and 13) have contributed in Dortmund's attack, who threaten to hurt Barcelona in their Champions League opener on Tuesday.
Lucien Favre's side have scored the most goals in Bundesliga this season, racking up 13 goals in four games.
"We have to push up and be able to counterattack," the 61-year-old coach said.
"A team that can't launch counterattacks isn't a great team."
The competition for a spot in the starting line-up is tremendous, with Gotze and Bruun Larsen yet to feature this course, while Hazard and Brandt have come off the bench on two occasions.
Sancho and Alcacer lead the team
On the other hand, Favre counts on Sancho, Alcacer and Reus as starters, with the first two in particular impressing with their performances.
The former Barcelona striker has scored 26 times in 38 games since his arrival and has netted in all the matches he has played this season, reaching 10 goals in eight encounters.
After having scored in four consecutive Bundesliga games he matched the record set at Dortmund by Pierre-Emerick Aubameyang in 2015/16 and Lothar Emmerich in 1967/68.
Meanwhile, Sancho was the second-best contributor in the top five leagues, as only Eden Hazard provided more assists (15) that the Englishman's 14.
This season he has already given five assists and has scored five goals in total with Dortmund and England.
After 52 years, he broke the record set by Horst Koppel and became, at 19 years and 151 days old, the youngest player to reach 15 goals in the Bundesliga's history.
His connection with Alcacer upfront is exceptional, as four of the Spaniard's seven goals were produced by Sancho.
"He is a kid with tremendous qualities, incredible self-confidence in the matches and he is giving us a lot," the former Valencia striker told MARCA.
"Hopefully he will continue this way with the desire to work that he has, with the desire to improve day by day, to give everything he gives to the team, because within the team he is a fundamental piece."